MATERIAL USPs
All of our materials combine the following compelling material advantages:
MIRROR-SMOOTH SURFACE​
Our materials feature a pleasant haptic feel and are easy to clean, ensuring a sleek and elegant appearance in your bathroom.

​​REPAIRABLE ​
Our materials are repairable, meaning that minor damages can be easily fixed after installation, ensuring the longevity of our products and saving you replacement costs. ​

STABILITY ST & BT​
Our materials are stable and do not have any movement when walked on, ensuring safety and durability in everyday use.

EASY INSTALLATION ​
Our materials are designed for easy installation, saving you time and effort during the installation process. The drain connection is fast and hassle-free.​

KEEPS WATER TEMPERATURE BT​
Our materials have excellent heat retention properties, ensuring that your bathwater stays hot for longer periods of time compared to other materials, providing you with a comfortable bathing experience.

​​TEXTURES ​
Our materials come in a variety of textures, from anti-slip to eye-catching designs, allowing you to customize your bathroom to your personal style and preferences.

​NOISE ABSORBING​
Our materials are designed to absorb noise, providing you with a quieter and more peaceful bathroom experience after installation.

THERMAL SHOCK RESISTANCE​
Our materials are resistant to thermal shocks, avoiding cracks and leakages, ensuring the durability and longevity of our products in the bathroom environment.
​
​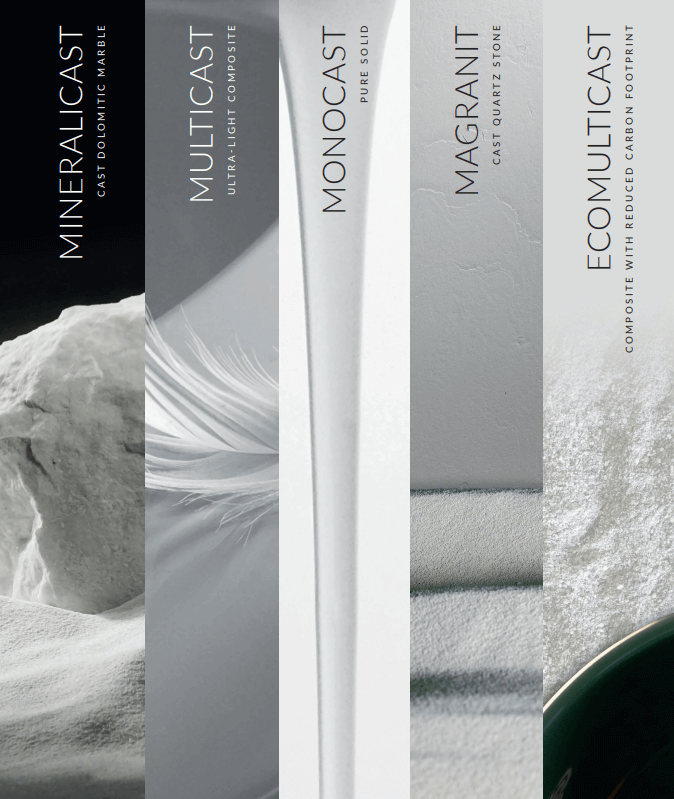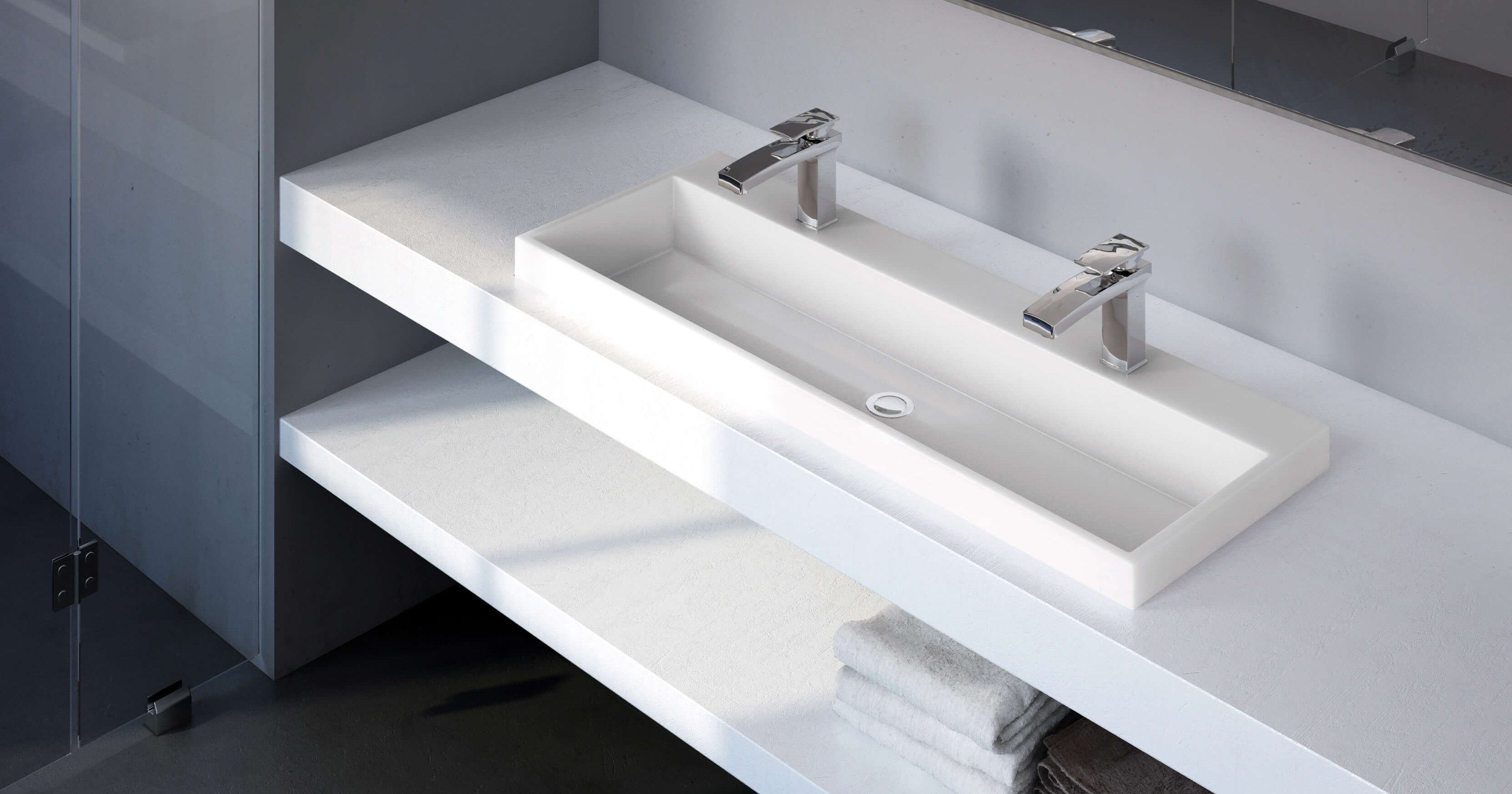 Developed 35 years ago and constantly improved over time, MINERALICAST is one of the most reliable and unique casting materials on the market. The main component of the material is natural, powdered dolomitic marble that consists of 96% calcium magnesium carbonate. Together with a dedicated resin, it creates a strong casting filler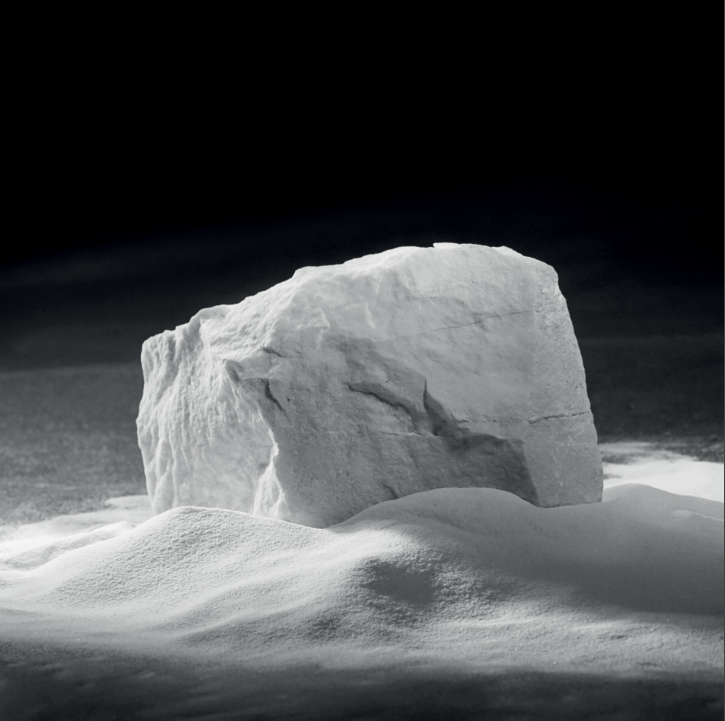 The external surface of the product is covered by a durable, sanitary gelcoat for excellent surface performance, available in a glossy or matt finish and throughout the RAL colour palette. The properties of MINERALICAST allow for the manufacturing of high-quality products of almost unlimited shapes and effective technical and functional features.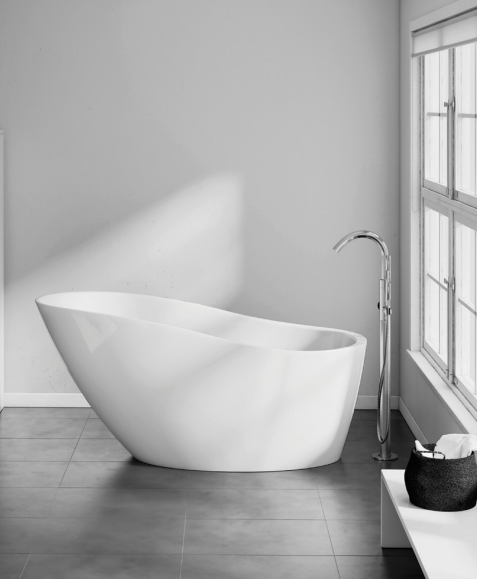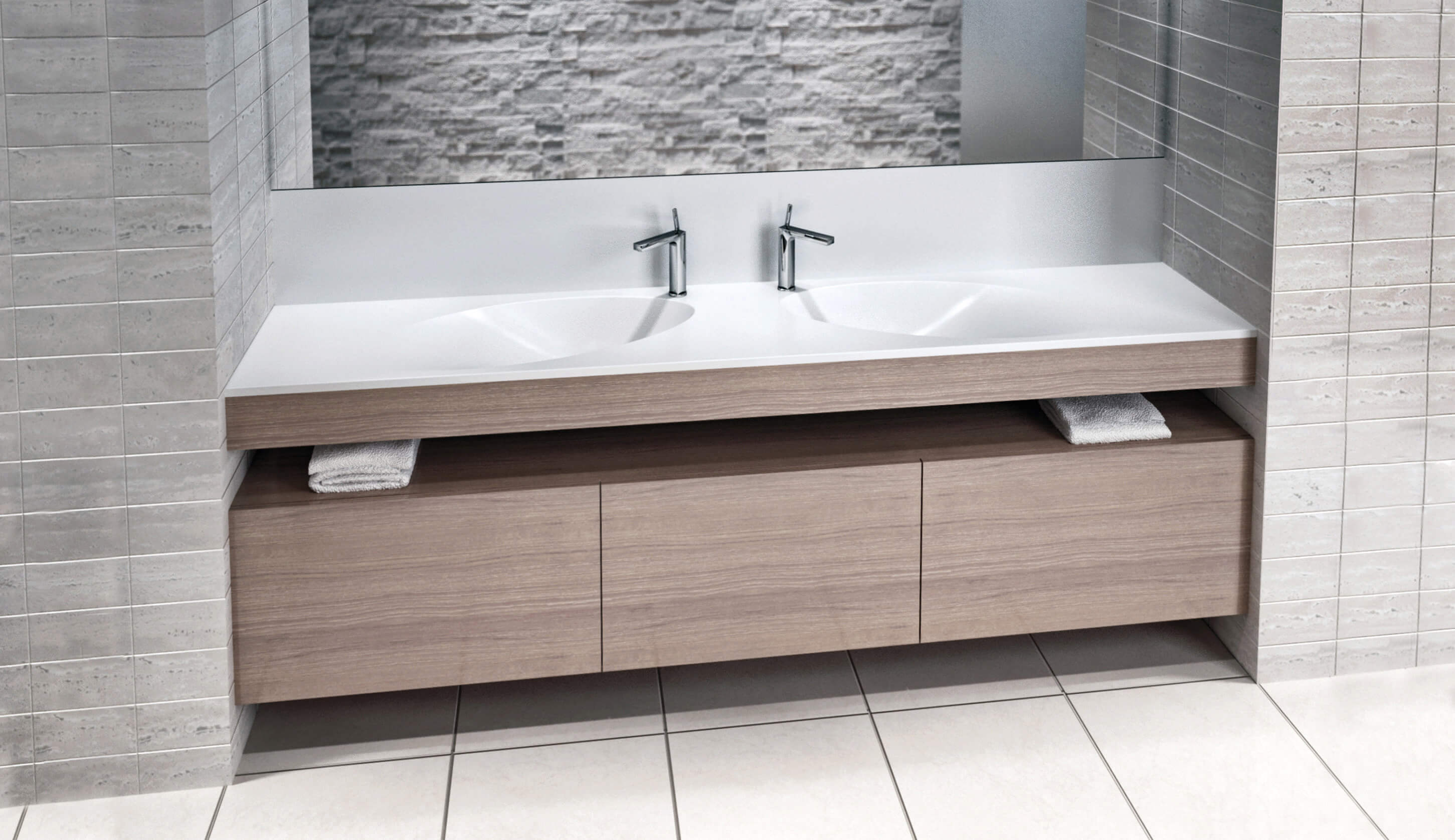 MULTICAST is a unique composite material that combines extraordinary durability and exceptional lightness. It is based on a special formula of the filler, developed by MARMORIN, which allows for the manufacturing of products much lighter than cast stone equivalents without sacrificing longevity and durability.
The external surface of the product is covered by a durable, sanitary gelcoat for excellent surface performance, available in a glossy or matt finish and throughout the RAL colour palette. The material is especially suitable for large-sized washbasins, shower trays and bathtubs, with or without integrated overflow.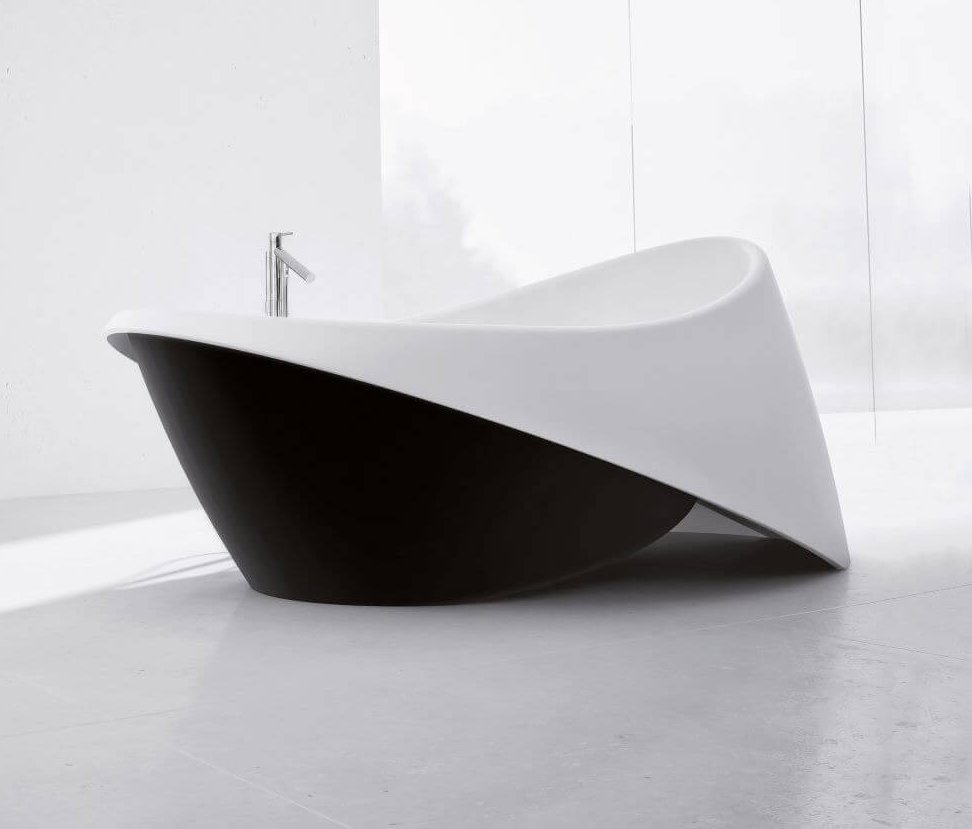 MultiCAST

Ultra-Light
Composite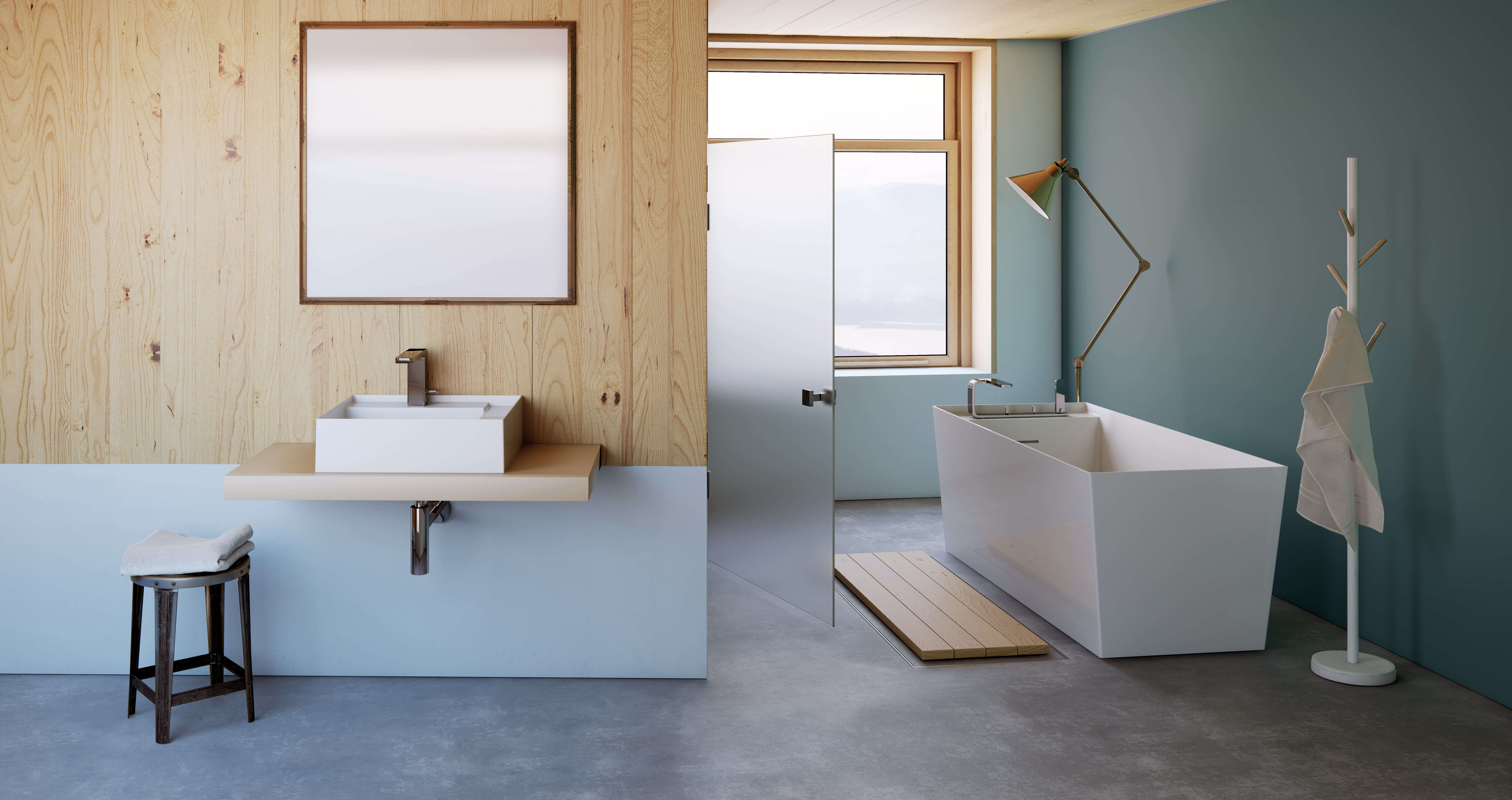 Composite with reduced carbon Footprint
ECOMULTICAST is the latest development by SCHOCK and MARMORIN. It boasts the same product features as our ultralight MULTICAST material, but it is even more sustainable and comes with improved noise absorption. ECOMULTICAST is a bio composite material that consists of dolomite, shredded waste from production scrap and a sustainable resin. The external surface of the product is covered by a durable gelcoat for excellent surface performance, available in glossy or matt finish and already well-proven over many years. This new sustainable material is suitable for washbasins and shower trays.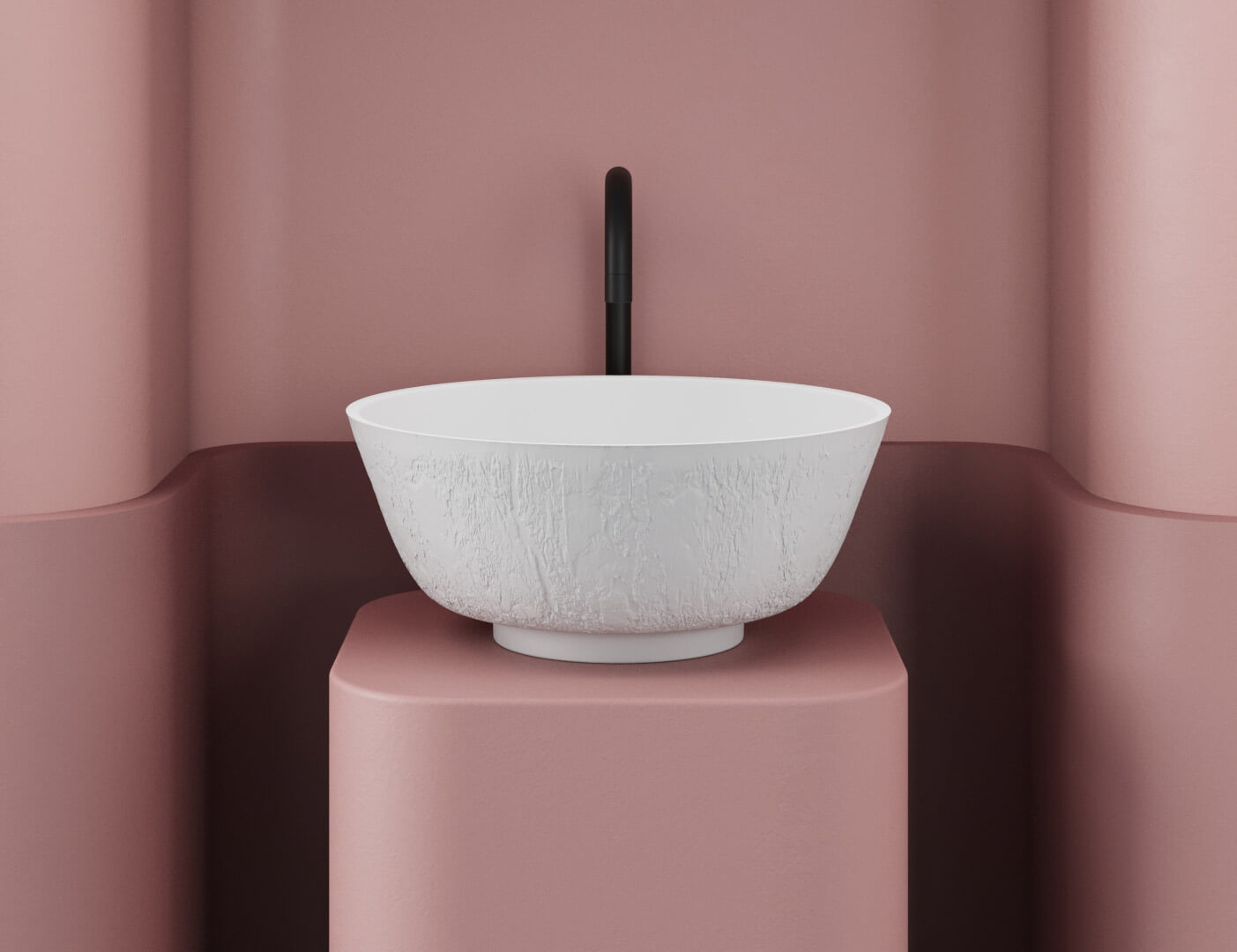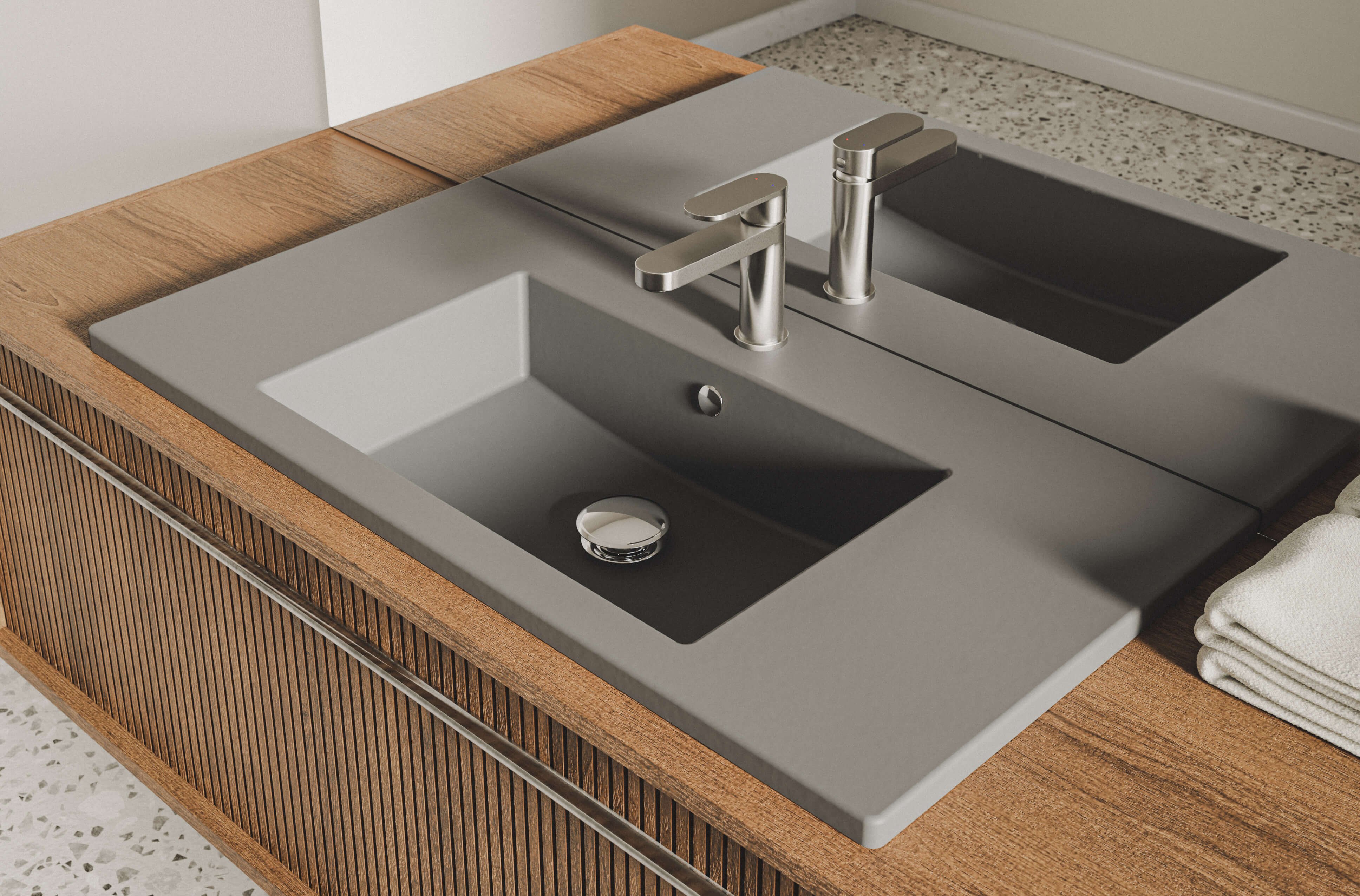 Magranit
CAst Quartz stone
MAGRANIT, the proven quartz composite from kitchen applications, is now expanding into the bathroom. It is primarily made of pure quartz, which makes it very strong, impact-resistant, and durable. The quartz aggregate is bonded together with a special resin and additional refining compounds, creating a material that is perfectly suitable to the bathroom environment. MAGRANIT products have a uniform, void-free structure and are resistant to very high temperatures. The perfect surface finish ensures a high level of hygiene and makes it easy to clean. The characteristics of the composition and manufacturing of MAGRANIT allow manufacturing casted products of various shapes and sizes. Additionally, the material comes in a wide range of colour choices, from cool to warm shades.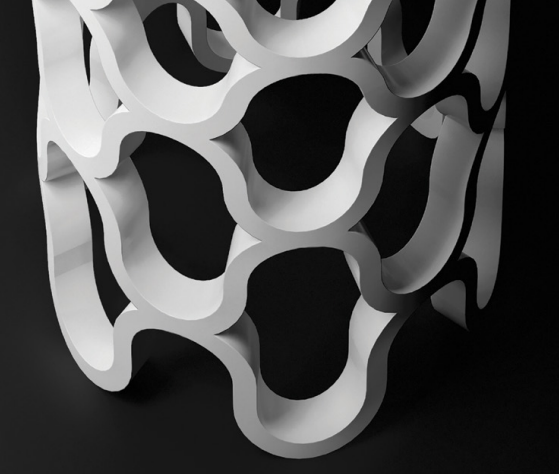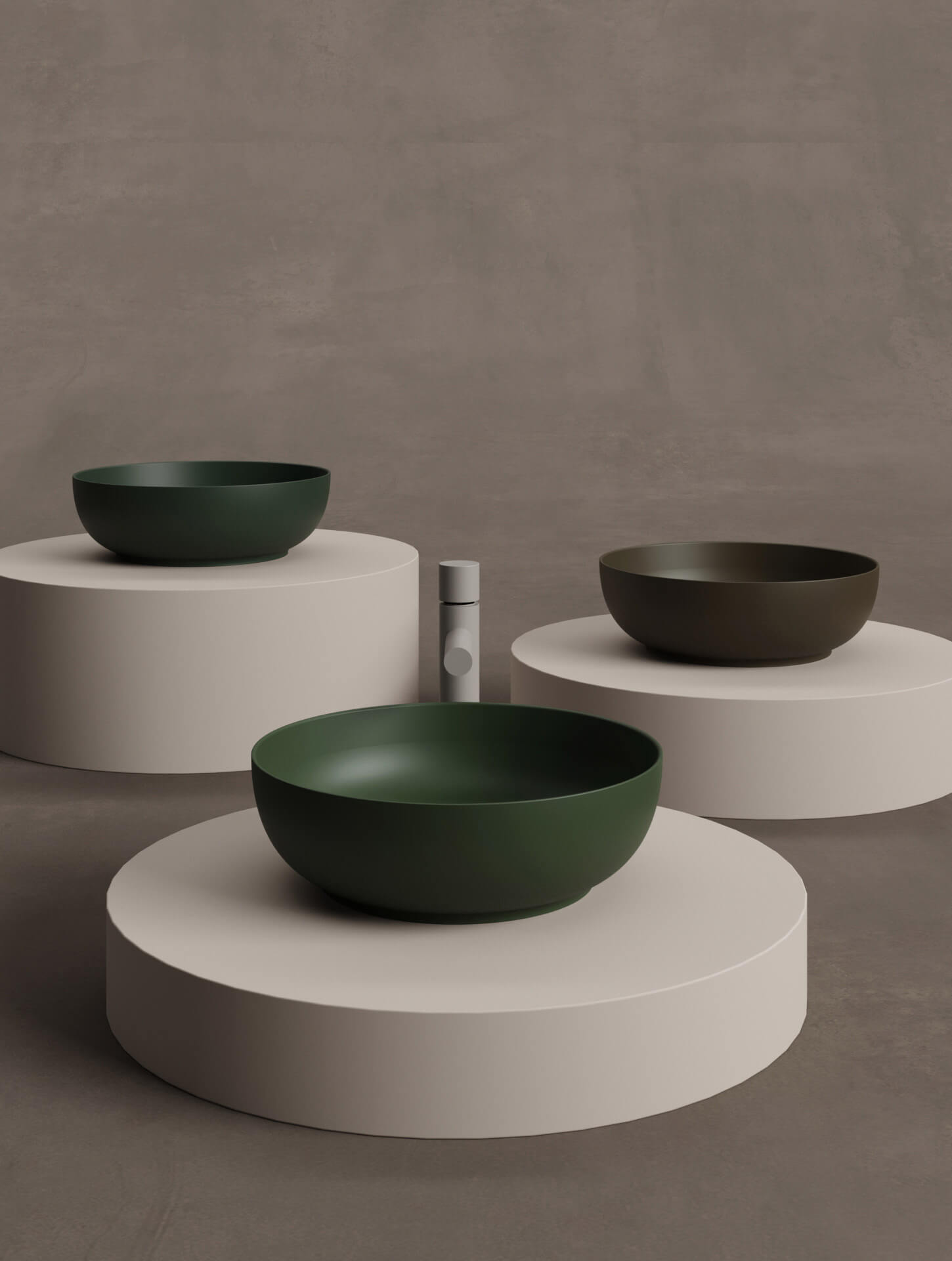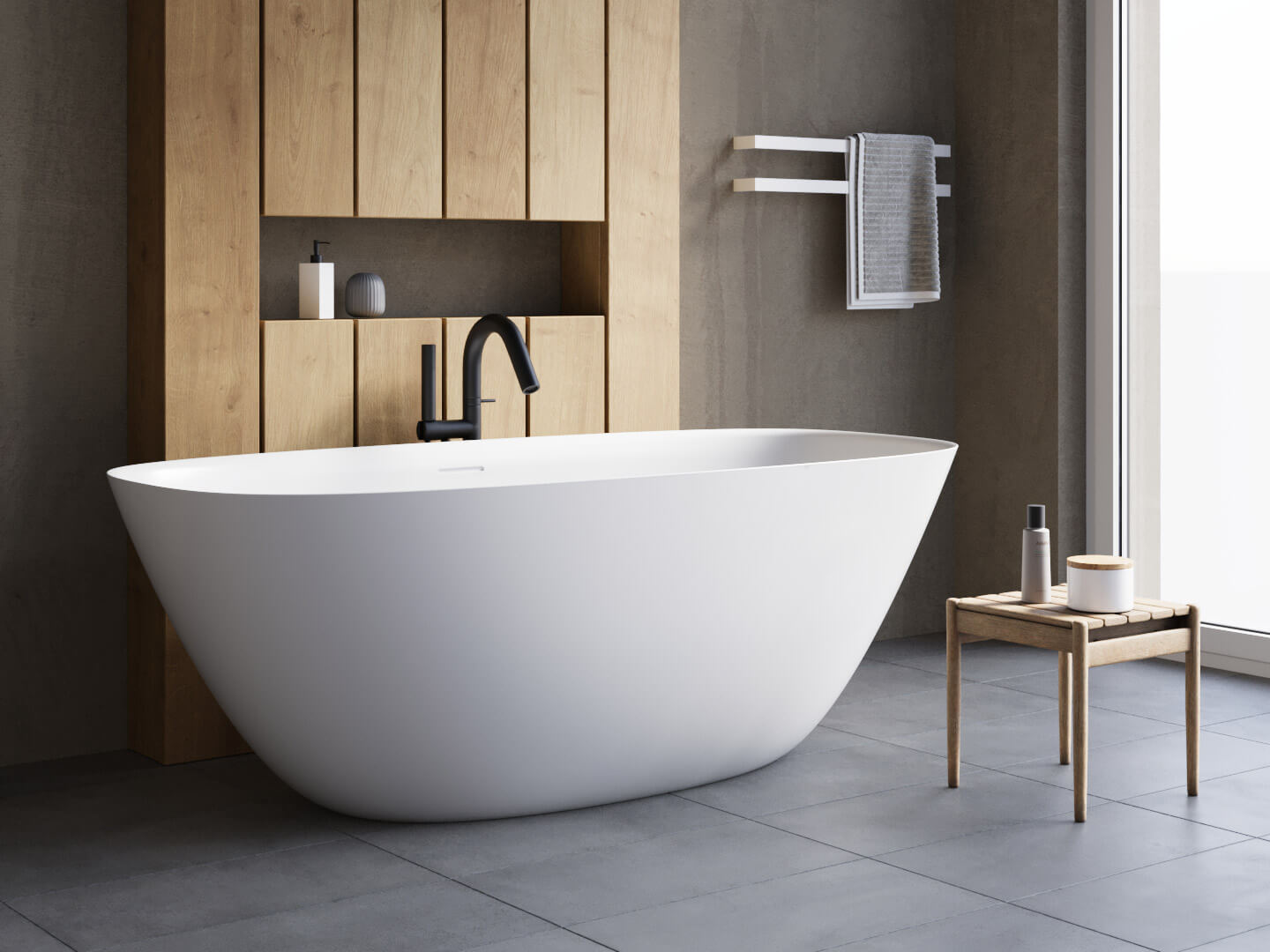 MONOCAST is a pure solid surface material that has been produced by MARMORIN for over 15 years. It is a homogenous, matt material obtained by combining high-quality and clean Aluminum Trihydrate (ATH) with carefully selected highly resistant resin. MONOCAST is 100% solid throughout the entire product, non-porous, and void-free with exceptional surface finish. MARMORIN is among the very few manufacturers that have fully mastered the production of casted solid surface bathroom products. There are almost no limits in terms of shapes, complexity, or sizes for products made of MONOCAST® which makes it a perfect solution for demanding projects.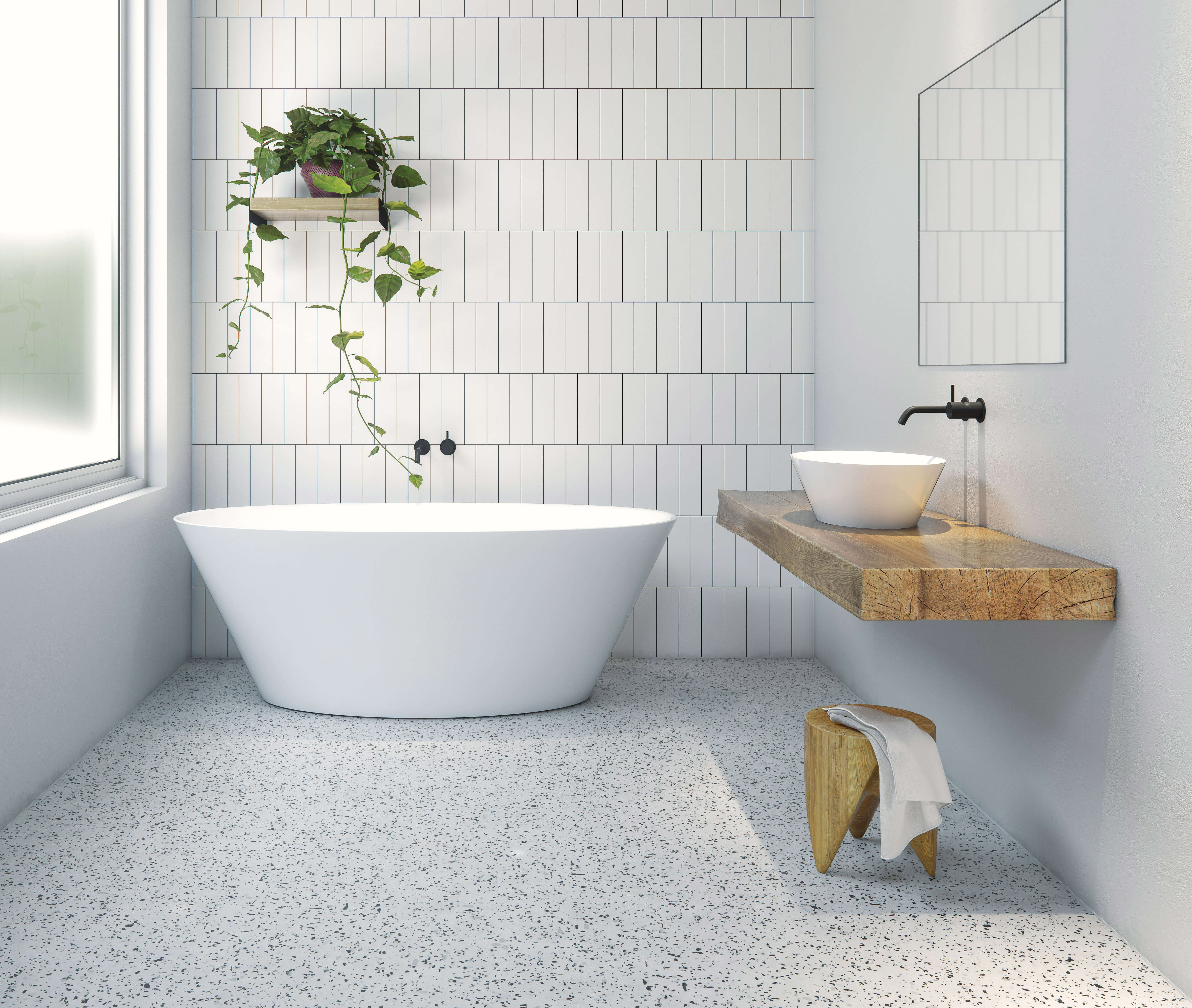 Whether you're interested in our products or have questions about our design process or materials,
please don't hesitate to get in touch with us via our contact form.